My ONE and ONLY 21st Birthday
My ONE and ONLY 21st Birthday!
Happy Birthday to Jon
Happy Birthday to Jon
Happy Birthday to Jonathan
Happy Birthday to Jon!!!
Today marks the 21st year into my life. How time really flies... Still remember the time when i was in kindergarden when i am very white and fat.. Then primary school where most of the time is spent playing freeze-and-melt, catching, zero- point and decorating classrooms with coloured chalks during Teacher's Day... my RV days, where lots of mugging starts and where i knew my good friends... Hwa Chong days when Huang Cheng became part and parcel of my life, all my classmates, yinxiang mates.. NS days where i finally experience how soldiers are... Working days where i have a taste of how working in a business world is like...
21 years old...
Hereby i would like to thank these pple who sent Birthday SMSes to me (in order of time)
Bingyi, Yue Xin, A. Tay, Karen, Wen Jian, Xue Fen, Lionel, Yirui, Chun Kit, Zhiqi, Wendy, Nic, Christabel, Kwok Siong and Jeff.
Would like to thank Belinda for her nice piece of choc- mousse cake this very morning!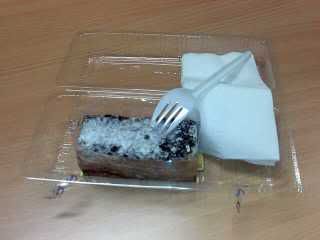 Would like to thank my group of colleagues for celebrating this special day with me.. I am really surprised! Oh and is my fav choc- mousse cake!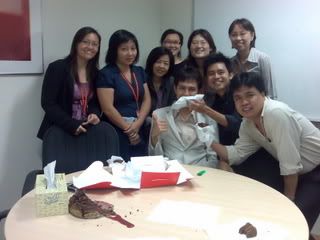 Would like to say i LOVE my family! And the cake is double white cum normal choc- mousse!
Though i did not throw a huge party, i would say it is really still a memorable day :) I love u GuYs!!!