Sankes on the plane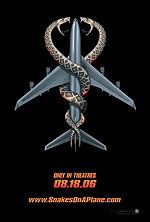 I forgo-ed my long anticipated dim-sum buffet for a movie! (which to many are uninteresting)
WJ: I scare of snakes! No no..
KS: See how la.. not too interested..
YuE xIn: I dont want watch.
Thanks sooooooo much BY for watching the movie with me! haha.. and the movie proved its worth.
The movie is rated NC-16 for violence and gore BUT apparently there was a scene of NUDITY. That i suppose add to the NC-16 rating. True enough, the sudden appearance os the poisonous snakes on screen proved to be scary. The way the snakes attack are gruesome and disgusting!!! BUT really, it was good. Not a typical flight movie of hijack or sorts. Nicely done.
At least the flight attendants are portrayed as good and responsible people ( unlike them in FLIGHT PLAN ). Though they are a bit bitchy and slutty. Hahahaha...
BY ask me what will i do if there are really snakes on the plane.
" I will be calm"
Clearly thats what a qualified Flight Attendant should do.